Kaleialoha Orchid Farm is family owned and operated by Mary and Dean Monroe. We are located on the windward side of Hawaii, "The Big Island," the southernmost island of the Hawaiian chain.
Our farm's specialty is potted orchids. We grow mainly Cattleya and species orchids but also have a wide variety of other genera available including Dendrobium, Encyclia, Epidendrum, Miltonia, Oncidium Intergeneric, Paphiopedilum, Vanda, Species Orchids and more. We emphasize high quality standards and excellent personal service.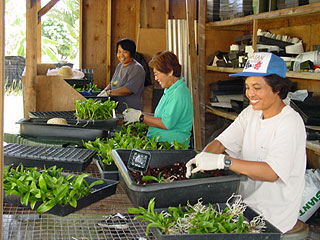 Established in May 1996, the farm has grown quickly - and we hope this is because of the importance we place on personal service and our high quality standards. We now have almost 2 acres in production. Virtually all of our product is shipped to mainland United States and goes to wholesalers, interiorscapers and other orchid growers who then finish our product and sell to retail stores. We also sell retail gift boxes direct to customers.
Because we are a small family farm, we are able to personally check all of the products before shipping. Your orders are harvested fresh from the farm and shipped directly to our customers.
All orders are shipped Fedex Priority Overnight unless otherwise instructed by our customers.
Customized orchid boxes are our specialty!
Email contactus@kaleialoha.com or call 808-982-7744 for a custom box for your next gift or occasion. We are always willing to work with you regarding any needs you may have for weddings, anniversaries, banquets, corporate functions, hotels and bed and breakfast decoration or simply your need for beautiful orchids.